How We Save Lives
From the trunk of a car to the halls of Congress with Janette Fennell, Kids and Car Safety's president, and founder
Janette Fennell's survival story led to her dedicated career in advocating for injury control and child safety. In 1995, Janette and her husband were kidnapped at gunpoint, forced into the trunk of their car, and driven to a secluded location where they were assaulted, robbed, and left for dead in the trunk of their car. The couple had no idea as to the whereabouts of their 9-month-old baby who had been in the back seat when they were kidnapped. After a terrifying ride through the streets of San Francisco and beyond, the Fennells clawed their way out of the confines of their trunk and were later reunited with their infant son who had been left alone in front of their home. Miraculously, they all survived.

| | |
| --- | --- |
| | |

Ms. Fennell went on to lead a successful campaign to convince the powerful auto industry and the federal government that trunk entrapment was a significant problem. Her persistence paid off when a federal regulation was issued and an internal trunk release mechanism became standard equipment in all vehicles that are model year 2002 or newer and sold in the United States.
The best news of all is that not one person has died inside the trunk of a car that has this internal trunk release mechanism. Nada! Zilch! Zero. This small piece of glow-in-the-dark plastic that now hangs inside the trunk of vehicles has saved countless lives.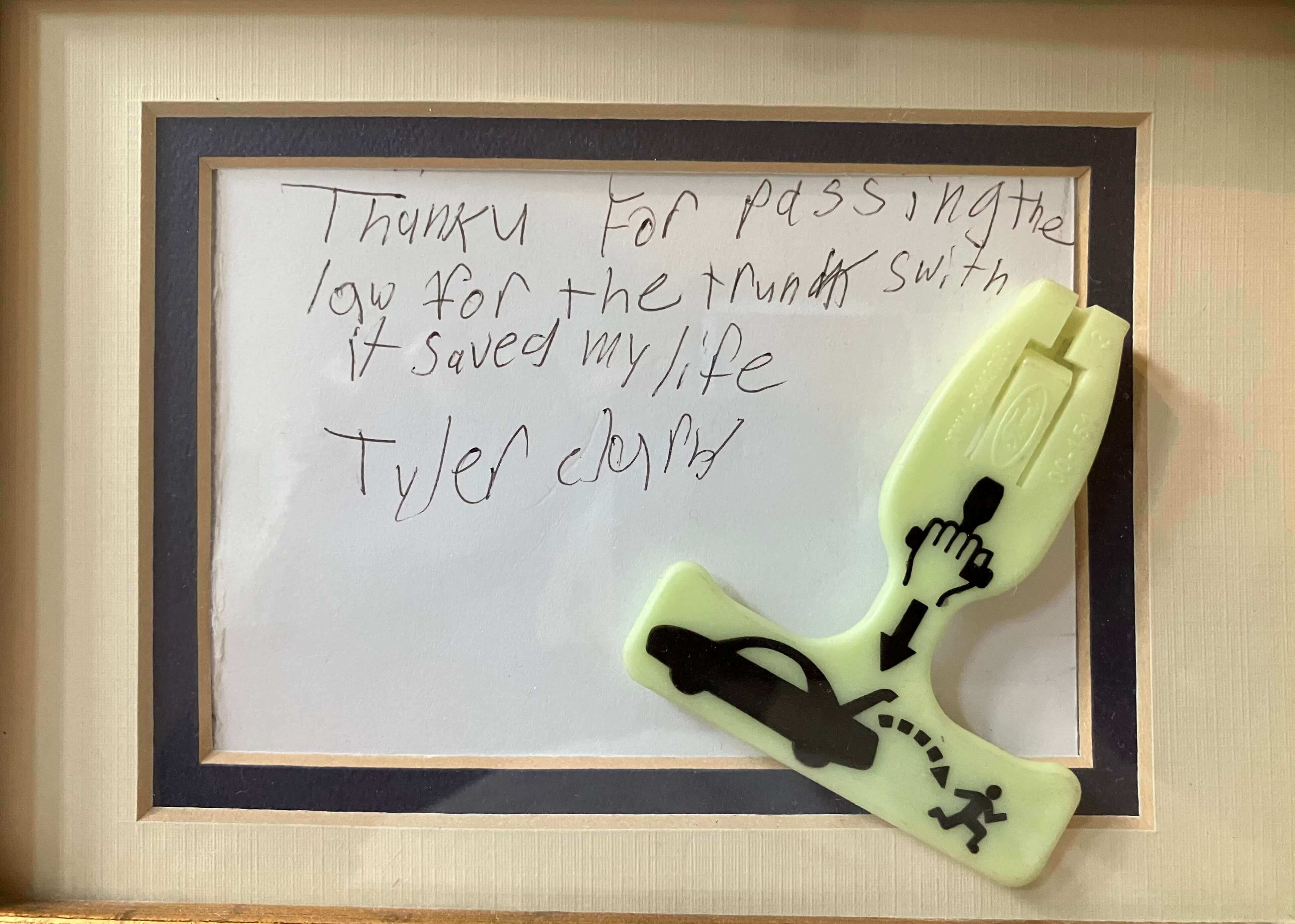 After her success in bringing trunk entrapment to the national agenda, Ms. Fennell was contacted to assist on issues such as power window strangulations, backovers, hot car tragedies, vehicles being inadvertently knocked into gear by children alone in cars, etc. , Astonishingly, similar to trunk entrapment, these types of incidents occurred on private property and data was not being compiled anywhere.
Kids and Car Safety was formed to eliminate these little-known, yet widespread vehicle dangers and to protect children both in and around vehicles from these preventable tragedies. Kids and Car Safety was the first and only organization to not only recognize nontraffic dangers (nontraffic meaning anything that happens off of a public roadway), but also to begin collecting data and bring national attention to these incidents.
According to the National Highway Traffic Safety Administration's (NHTSA) Non-Traffic Surveillance (NTS) system, an estimated 2,449 people were killed and 86,920 injured each year in non-traffic motor vehicle crashes during the 5-year period from 2016 to 2020. Additionally, the NHTSA estimates that 506 persons were killed in non-traffic, non-crash vehicle incidents per year and another 647,000 persons were injured.
Kids and Car Safety, a 501 (c)(3) national nonprofit is dedicated to saving the lives of children and pets in and around motor vehicles. Vehicle-related accidents are the #1 killer of children in the United States. Almost all of these tragedies are preventable. There is a significant opportunity to protect children and pets by focusing efforts on keeping them safe in and around vehicles through risk identification, education, product redesign, and engineering changes.
Kids and Car Safety is devoted to eliminating vehicle-related risks to children and pets through data collection, research and analysis, public education and awareness programs, policy change, product redesign, and supporting families to channel their grief into positive change. These everyday events referred to as nontraffic incidents include being run over, hot car deaths, carbon monoxide poisoning, car theft with children/animals inside, falls, knocking cars into gear, drowning from not being able to exit a submerged vehicle, underage drivers, power window strangulation and trunk entrapment, etc.
Learn more about Janette and the Kids and Car Safety team here.
Order a trunk release here.