Accomplishments and History
Kids and Car Safety, a 501 (c)(3) national nonprofit is dedicated to saving the lives of children and pets in and around motor vehicles. Vehicle-related accidents are the #1 killer of children in the United States. Almost all of these tragedies are preventable. There is a significant opportunity to protect children and pets by focusing efforts on keeping them safe in and around vehicles through risk identification, engineering changes, and education.
Kids and Car Safety is devoted to eliminating vehicle-related risks to children and pets through data collection, research and analysis, public education and awareness programs, policy change, product redesign and supporting families to channel their grief into positive change.
Kids and Car Safety has a special focus on incidents that occur off of public roadways, mainly in parking lots and driveways. These everyday events are called nontraffic incidents. They include being run over, hot car deaths, carbon monoxide poisoning, car theft with children/animals inside, falls, knocking cars into gear, drowning from not being able to exit a submerged vehicle, underage drivers, power window strangulation and trunk entrapment, etc.

Major Accomplishments Based on Data Collection
Kids and Car Safety (KACS) is recognized as the #1 authority on nontraffic incidents that injure and kill children. The team is regularly sought out as experts on all child vehicle safety topics for speaking engagements, conferences, Congressional testimony, media interviews, etc.

KACS changed the entire transportation data collection philosophy and structure in the U.S. The National Highway Traffic Safety Administration (NHTSA) is now required to collect nontraffic data. NHTSA's first report issued in January of 2009 highlighted over 1,700 fatalities and over 840,000 Emergency Room (ER) visits for vehicle-related injuries that take place on private property every year. This is a good first step, but more work is required. Data is needed from all states. The agency is only using ratios from five states based on their overall traffic crash injury and death data.

KACS has influenced the passage of laws in dozens of states to raise awareness and make it illegal to leave kids alone in cars. Also, Good Samaritan laws are being passed to protect citizens from liability if they rescue a child, pet or adult trapped inside a vehicle.

Product redesign successes:
Kids and Car Safety's (KACS's) data and leadership have been the basis for many major successes in making vehicles safer for children (and others) through product redesign.
PLEASE NOTE: These safety changes affect ALL vehicles sold or leased in the United States regardless of where they are made.
As of May 2018, all new vehicles are required to have a rearview camera as standard equipment. The number of reported backover incidents are beginning to decrease as more vehicles are purchased with rearview cameras.

Safer "pull up to close" and "push down to open" power window switches have now been installed in all vehicles since October 2010. The dangerous rocker and toggle power window switches are no longer allowed. The number of power window strangulations and injuries have gone down drastically since the installation of these new safer window switches.

As of 2010, all vehicles with automatic transmissions are required to be equipped with a system that requires the brake pedal to be depressed before the car can be shifted out of park (brake-to-shift interlock). There has been a significant decrease in the number of children injured or killed from setting vehicles into motion.

Glow-in-the dark internal trunk release mechanisms are required inside the trunks of all vehicles model year 2002 or newer. There have not been any deaths in the trunk of a car that has an inside the trunk release. Zero.

Rear seat belt reminders are now required by law but we await the regulation being finalized by the NHTSA to require rear seat belt reminders in all seating positions. (not just the front driver/passenger seats

A provision was passed in the Infrastructure Investment and Jobs Act (IIJA) with a mandate for action by the U.S. Department of Transportation (DOT) aimed at

preventing hot car tragedies

. Soon all new vehicles will come with technology to help prevent hot car deaths as standard equipment. KACS is now working to ensure that the National Highway Traffic Safety Administration (NHTSA) will issue the final rule due by November, 2023, without any delay and that the final rule will require occupant detection, a feature necessary to address the issue in a comprehensive manner.

A provision passed in the Infrastructure Investment and Jobs Act (IIJA) mandates action by the U.S. Department of Transportation (DOT) to require a safety standard so all vehicles will

automatically shut off

if inadvertently left running. This risk has drastically increased in vehicles with keyless ignitions and can cause carbon monoxide to silently leak into a home killing the occupants.
Education Programs
Kids and Car Safety is featured in local, national and international media outlets regularly to heighten awareness about the dangers children face in and around vehicles. In 2019, Kids and Car Safety was featured in over 5,200 television and print media reports with a total media reach of over 14.2 billion in the U.S.
Look Before You Lock program
The Look Before You Lock (LBYL) national program is aimed at preventing child hot car deaths and injuries. The program provides free educational materials to hospital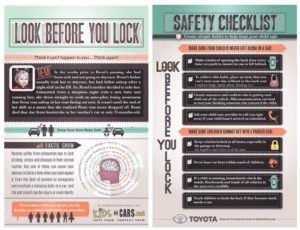 birthing centers, OBGYN offices, pediatric and family practice offices, early childhood education programs, public health departments, child care providers, etc. The materials help parents and caregivers understand how hot car deaths can happen to even loving, responsible parents and provide proactive tips to ensure their child is safe. To date, well over one million LBYL cards have been distributed. Many more individuals are educated through downloadable, printable materials and social media campaigns.
Childproof Your Ride program
The Childproof Your Ride (CYR) program is our newest program currently focused in Kansas and Missouri. Just as parents childproof their homes to keep their babies safe,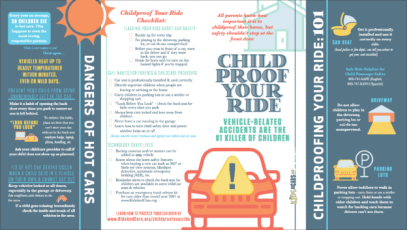 the purpose of the CYR program is to provide parents with a comprehensive resource about the many dangers children face in and around vehicles and what they can do to mitigate those risks. The program serves as a "one-stop-shop" for parents to learn everything they need to know about vehicle safety for their children. Materials are distributed to existing child safety programs that are focused on the parents of young children.
Other Major Projects & Areas of Focus
Survivor Advocacy Program
Kids and Car Safety empowers hundreds of families and friends who have been affected by the injury or death of a child in a vehicle-related incident. We call these brave souls "Survivor Advocates." Families receive support through the organization by connecting them with other families who have been through the same type of unique loss. The organization provides a platform for advocates to honor their children, share their story and channel their grief into positive change to save lives.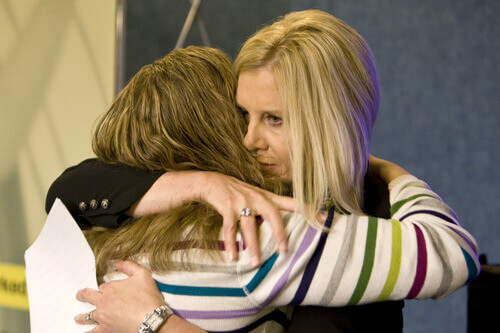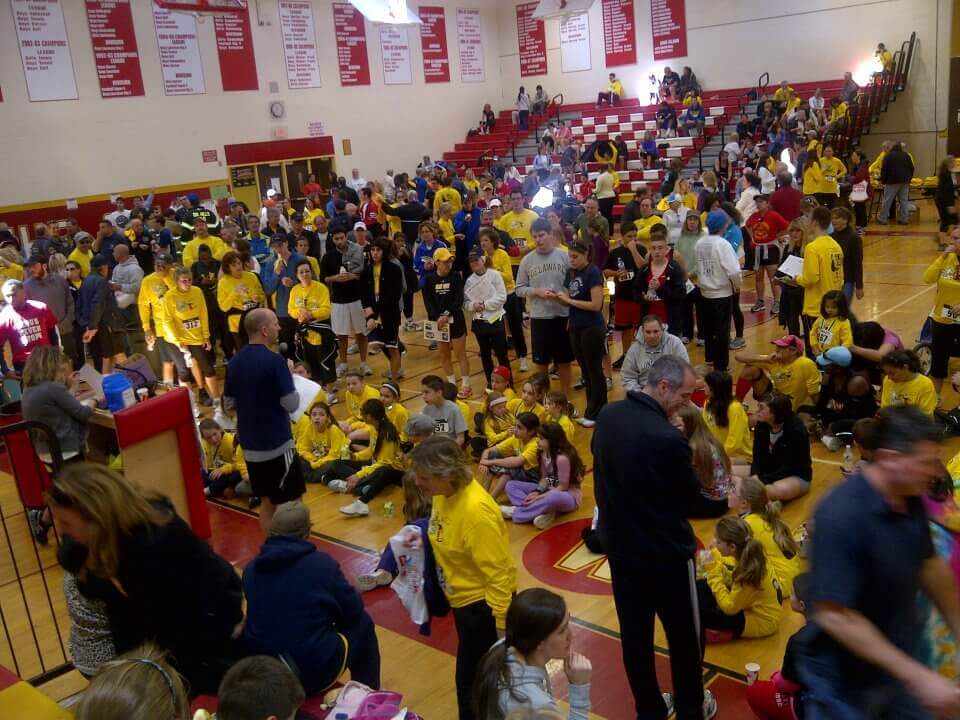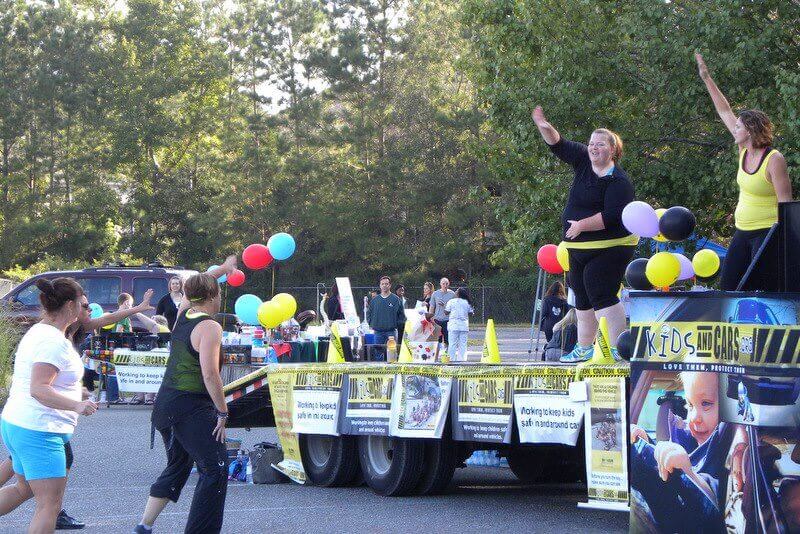 Helping those who have had a traumatic experience take action has been the backbone of our organization's work since our president and founder, Janette Fennell, started the organization after her family survived being kidnapped, locked in their car trunk and left to die during a California incident in 1995. Throughout the kidnapping, Mr. and Mrs. Fennell were unaware if their 9-month-old son, who was in the back seat, had been taken or harmed. The Fennell family survived the ordeal relatively unharmed and dedicated their lives to ensure others did not have to be confined in a car trunk with no means of escape.
Autonomous vehicles
As we move towards the use of autonomous vehicles, KidsAndCars.org will be at the forefront and instrumental in helping account for the unique safety needs of children. There will be distinctive considerations that must be taken to help ensure the safety of our children as these new vehicles populate our roadways.
Hot Car Deaths of Children & Pets – The Hot Cars Act
KidsAndCars.org has been the force behind the introduction of the Hot Cars Act of 2019 (HR 3593 / S.1601). This Federal bill has bipartisan and bicameral support. When passed, technology will be added in vehicles to prevent hot car deaths by detecting the presence of children, pets and vulnerable adults inside the vehicle and alerting the driver and bystanders to their presence.
Frontovers
Currently, there is a blindzone in front of all vehicles where the driver cannot see a small child or pet. Frontovers happen when a parked car begins to pull forward slowly and runs over someone. Frontovers are responsible for approximately 366 deaths and 15,000 injuries per year. Backup cameras are now required in vehicles but there is no technology required to prevent frontovers. Front sensors and automatic braking technology can be added to vehicles to detect the presence of someone in front of a vehicle. KidsAndCars.org is working with Congress and other safety agencies to raise awareness and work towards eliminating these predictable and preventable tragedies.
Passengers drowning in submerged vehicles
Every year countless people die because they cannot escape from a vehicle when it is swept away or crashes into the water. KidsAndCars.org is working to help address this issue through educational awareness and promoting the use of emergency safety tools that can aid in the escape from a submerged vehicle.
Carbon Monoxide Poisoning
Vehicle engines are inadvertently left running in attached garages, causing carbon monoxide poisoning deaths and injuries with the introduction of keyless ignitions. KidsAndCars.org has identified this risk through its data collection efforts and is now working with different groups to educate consumers about this issue and to require an auto shut-off feature in all vehicles.
Data Collection and Identifying Evolving Vehicle Safety Issues
KidsAndCars.org's unique data collection, research, and analysis have identified emerging trends in how children and pets are being injured or killed in vehicle-related incidents. This early detection system has enabled KidsAndCars.org to measure the significance of the risk and communicate any noteworthy trends to other groups and agencies. Being able to identify these trends early on can provide great insight into how proactive measures can be developed to prevent injury and save lives.
Data Collection on Pets & Vehicles
KidsAndCars.org has been informally documenting injuries and deaths of pets for several years and is beginning to work with other agencies to develop a more comprehensive data collection process. This data does not exist anywhere else in the country and could provide insight into how pets can be better protected in and around vehicles.
Seat Belt Reminders in All Seating Positions
In 2012 a law (MAP-21) was passed requiring the NHTSA to issue a final rule for rear seat belt reminder systems for all occupants as standard equipment. KidsAndCars.org continues to work with the U.S. Congress and other agencies to push this long-delayed rule forward as it would save countless lives, many of which would be children.
Childcare policy
KidsAndCars.org is working with the child care industry and child care management software companies to help reduce the risk of hot car deaths of children. Creating alerts for caregivers to contact parents when a child does not show up to the child care center as scheduled can save hundreds of lives.