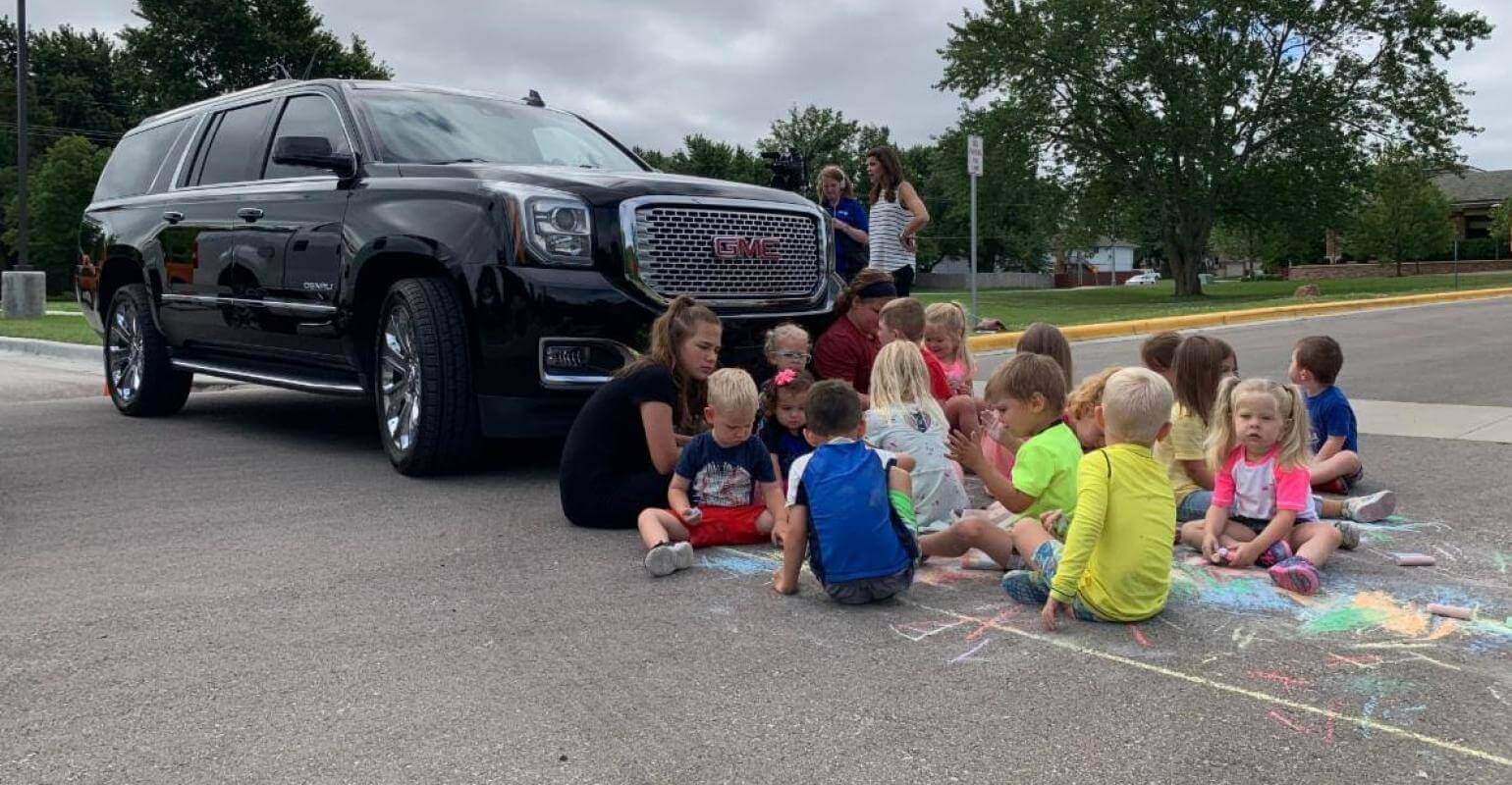 Bigger vehicles have much larger front blindzones than other cars, often extending to 16 feet. As a result, 526 youngsters were killed in low-speed "frontover" incidents in 2020, up from 251 deaths in 2008, the U.S. Department of Transportation says.
America's love affair with big vehicles shows no signs of cooling off, with trucks and SUVs now accounting for about 80% of U.S. vehicle sales. Standing higher than regular cars, SUVs are the ride of choice for U.S. consumers. But they have a deadly drawback: blindzones.
Many motorists are completely unaware that bigger vehicles have much larger front blindzones than other cars, often extending to 16 feet (4.9 m). As a result, 526 youngsters were killed in low-speed "frontover" incidents in 2020, up from 251 deaths in 2008, according to the Dept. of Transportation.
In more than 60% of incidents, it's the child's parent behind the wheel, often in a scenario known as bye-bye syndrome, when a child exits the home unnoticed and follows a parent or family member into the driveway without their knowledge. Action to prevent these horrific tragedies is long overdue, and thanks to the efforts of the national child safety nonprofit organization, Kids and Car Safety, it's finally happening.
Top-down Action
U.S. Sen. Richard Blumenthal's STOP Frontovers Act of 2022 will demand that NHTSA issue a federal safety standard mandating preventive technology in all new vehicles to reduce deaths from low-speed frontovers. The bill was introduced last year and is expected to be reintroduced this year during the new legislative session.
The Department of Transportation and NHTSA have also proposed mandatory Automatic Emergency Braking in all new vehicles, with a strong emphasis on technology that functions just as well at night as in daylight.
If OEMs are going to step up to the challenge, they need to consider the lessons learned from the battle against backovers.
Backing Up a Bit
The issue of backovers – children being killed by reversing vehicles – came to the attention of lawmakers almost 20 years ago. Sadly, it was only in 2018, 10 years after Congress passed legislation requiring technology to enhance rearview visibility in all new cars sold or leased in the U.S., that all vehicles finally came with a rearview camera as standard equipment. Hundreds of children had been killed and thousands more seriously injured by backovers in the interim. Blumenthal therefore wants a deadline of 12 months for finalizing the new safety standard and just three years for full industry compliance.
That standard is to be technology-neutral, mandating "sensors, cameras or other technology to expand the perception zone of a driver." This is a key consideration for automakers, which may initially be inclined to "copy-paste" their rearview solutions to the front of cars.
Issues With Standard Backover Technologies
Current backover prevention usually is provided by cameras, ultrasonic sensors or both, but for automatic frontover prevention the bar is much higher.
Front-facing drivers naturally set off at higher speeds than when they're reversing. And that extra confidence increases risk. A small child running out of the house to say goodbye could cross the vehicle's path without their parent seeing them or having time to stop. Any suggestion, however, of implementing speed limiters, especially for low-speed scenarios, is likely to be a non-starter.
What's more, while a car usually reverses in a straight line, a driver can move forward in any direction. That requires not only the widest possible field of view, but also a high level of color sensitivity. A kid dressed in green running across the lawn toward the driveway could easily be missed by a standard camera system.
Cameras can also be severely hampered by environmental conditions such as rain, snow or dust on a lens. A motorist reversing out of a garage at dusk or into bright sunlight could easily cause a fatal backover.
Deploying a standard rear camera "as-is" on the front of a car would not be enough. When reversing, caution is the name of the game and most drivers make use of their rear-facing cameras and rearview mirrors, along with head movements, and reverse slowly and carefully. But when facing forward, many drivers may simply ignore the video screen and drive forward "naturally." Only AI-enhanced cameras – an ADAS platform – would be capable of providing automated alerts or active safety measures. Yet these are complex and expensive.
For these cameras to deliver effective frontover prevention, they would need an exceptionally wide field of view, high resolution, the ability to provide robust detection in all conditions, the capacity to distinguish targets against backgrounds of the same color and the ability to automatically detect and alert if a child enters the vehicle's blindzone.
The bottom line is that camera-based frontover prevention systems would be prohibitively expensive. But ultrasonic systems, while significantly less expensive, come up short in several respects.
Because frontovers involve higher speeds than backovers, ultrasonic solutions' limited range of only around 10 ft. (3 m) cannot provide the required distance detection.
They also have a severely limited field of view – especially on the elevation plane – including several dead zones, meaning they cannot reliably detect a child lying flat on the ground. In one recent incident, a teenage girl was run over while sunbathing on a driveway.
And because ultrasonic sensors provide only low-resolution imaging, they are unable to classify targets – to distinguish a mailbox from a child, for example.
For all these reasons, automakers are looking to another technology to deliver what they need.
The Technology on Every OEM's Radar
Ian Podkamien (pictured above) is vice president and head of automotive at Vayyar Imaging, leading Vayyar's automotive, robotics, safety (industry 4.0) and mobility markets.
One technology delivers exactly what automakers need to stop frontovers. 4D Imaging Short-range Radar provides extraordinarily high resolution and robust sensing in all conditions, enabling the simultaneous detection, classification and tracking of multiple static and moving targets, at a fraction of the cost of optical technologies.
Offering the industry's widest field of view on both the azimuth and elevation planes, and with a highly competitive price point equivalent to standard radar, it's the key to scalability, shorter TTM and low production costs.
Original Article: LINK