Good Morning America
More than 800 children have died from heatstroke in hot cars since 1990, including 12 so far this year, according to Kids and Cars, a nonprofit focused on children's safety. The organization is working with lawmakers to put a stop to these preventable deaths. Last week Representatives Tim Ryan (D-Ohio), Peter King (R-N.Y.), Jan Schakowsky (D-Ill.) reintroduced the Hot Cars Act to ensure that an alert system is standard in every car to prevent these tragedies. "If there are technologies that can prevent that kind of tragedy, we should just do it right away," Schakowsky told ABC News. There are several devices already on the market that are designed to prevent hot car deaths. "Good Morning America" tried out four different technologies: a car seat with built-in technology; an alert system already in some General Motors cars; a sensor system that can be put in a car seat; and a popular traffic app.
'Forgotten Baby Syndrome': A Parent's Nightmare of Hot Car Death
Hot Car Deaths Nearly Triple So Far This Year
ABC News' Paula Faris borrowed her producer's 7-month-old son, Ben, to try four popular devices.
1. Sensorsafe is a technology found in some car seats from the brand Evenflo. There is a receiver that goes into your car's diagnostics port, a socket located inside a vehicle that accesses various vehicle subsystems where small receivers can be installed to tap into a car's computer system. That receiver communicates with the car seat's smart chest clip – letting the driver know through a series of chimes whether a child is still in the seat after the car is turned off.
2. General Motor's Rear Seat Reminder System: This feature in some GM cars uses back door sensors that become activated when either the rear door is opened or closed within 10 minutes of the vehicle being started, or while the vehicle is running. Under these circumstances, when you reach your destination a reminder appears on the dashboard as well as an audible chime notification. When Faris opened the rear door before starting the car and then turned off the car, this reminder popped up on the dashboard: "Rear Seat Reminder. Look In Rear Seat." But what happens if the driver stops and restarts the car without opening the back door? To test this scenario, Faris stopped at a gas station and the reminder went off again when she turned off the car. She got out and then, without opening the back door this time, restarted the car to continue on her drive. When she reached her final destination and turned off the car, there was no reminder. GM told ABC News that its Rear Seat Reminder feature is "designed to remind drivers to check the back seat as they exit their vehicle under certain circumstances. The feature is intended to activate when either rear door is opened and closed within 10 minutes before the vehicle is started, or if they are opened and closed while the vehicle is running."
3. Driver's Little Helper Sensor System is a sensor system sold at several major retailers that can be put in a car seat. The sensor goes under the car seat padding where the child sits. The sensor is then attached to a battery pack and synced with an app. You can set when you want the app to send you notifications after you stop the car. You can set the interval for when you receive the notification -- the fastest being a minute. For our demo, Faris set the app to 1 minute notifications. When Faris pulled into the driveway with her phone and stopped the car, a notification came through after 1 minute and 39 seconds. She tried it a second time, the alert took 1 minute and 6 seconds. Driver's Little Helper told ABC News the alert was received "well within the threshold of safety." Also, if you don't respond to the notification, Driver's Little Helper will send a text and email to your emergency contacts.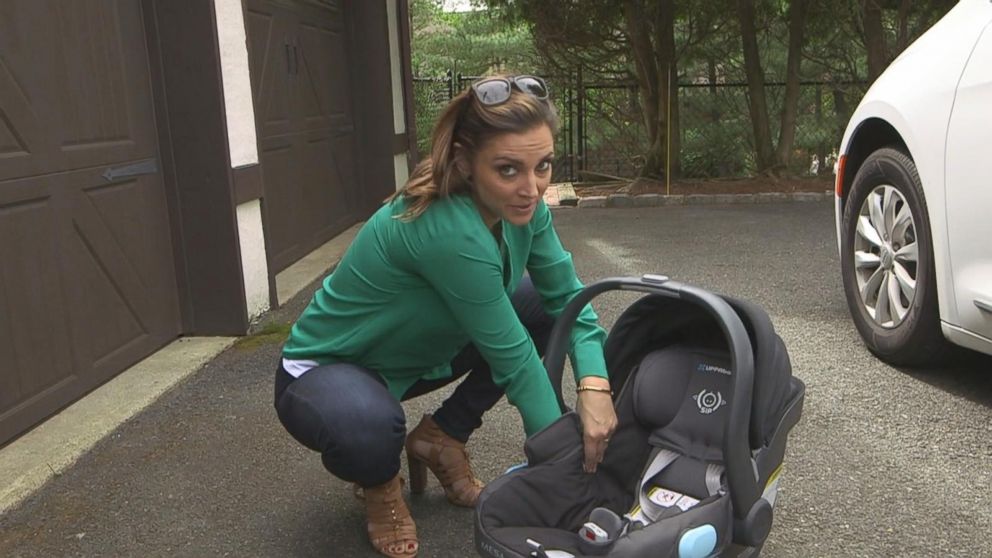 4. Waze, a popular traffic app, has a setting that will remind a driver to check his or her back seat when a destination entered into the app is reached. But it won't alert a driver during an impromptu stop. As Faris pulled into the driveway for her Waze destination, she received an alert before she turned off the car: "Check your car before you leave." In a statement to ABC News, Waze said: "You can never be too careful when it comes to the safety of a loved one or a pet. Waze Child Reminder is one more step parents can take as added insurance, building a habit to remember to check the back seat." Experts say an important thing to remember when using app-based alerts is to make sure your cellphone is charged. Janette Fennell, president and founder of KidsAndCars.org, told ABC News that parents should have layers of protection so a hot car tragedy doesn't happen to them. She recommends leaving your purse or briefcase in the back seat, telling your daycare to call if you haven't arrived as scheduled or making a habit of always looking in the back seat before you walk away from the car. "The biggest mistake that parents make is they really feel this can't ever happen to them," Fennell said. The Auto Alliance, a leading advocacy group for the auto industry that develops and implements solutions for motor vehicle safety, told ABC News in a statement it was working to conduct education and outreach campaigns to help prevent hot car-related deaths. "Losing children in hot cars is a tragedy, and greater public awareness and vigilance are absolutely crucial to save young lives right now, this week. That's why automakers, as well as diverse safety groups, are conducting education and outreach campaigns," the group said in the statement. "We all need to work together to avoid heatstroke deaths, so we will review the proposed legislation and provide guidance. In particular, we are concerned about proposals where it takes many years before results are seen, because twelve have already been lost this year in hot cars. And, the proposed mandate for notification technology in cars misses the targeted population, because so few parents of young children buy new cars. Each year, less than 13% of new car buyers have a child six years old or younger. And with people keeping cars longer, its takes about two decades for a technology to reach all the passenger vehicles on our roads. Greater public awareness saves lives today."
http://abcnews.go.com/US/technologies-designed-prevent-hot-car-deaths-work/story?id=47991074