CR testing shows it doesn't take hot weather for kids to wind up in danger
| | | |
| --- | --- | --- |
| | DARK SEDAN | LIGHT SEDAN |
| Starting Temperature (° F) | 78.0 | 78.8 |
| Temperature After 1 Hour (° F) | 109.4 | 104.1 |
Consumer Reports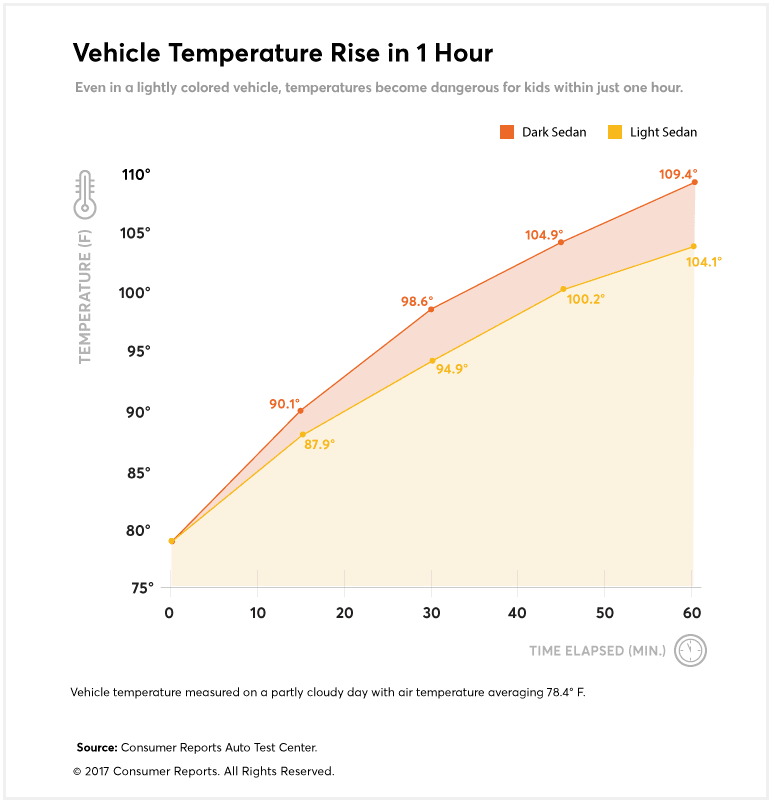 Closed cars can get super hot quickly because sunlight heats up elements inside, such as the dash, upholstery, steering wheel and more, according to
noheatstroke.org
. Those elements radiate their heat into the air, increasing the ambient temperature inside the car. Why don't cracked windows help enough? Partially opened windows do allow for some heat to escape, says Jake Fisher, director of auto testing at Consumer Reports, but as long as the heat source (the sun) continues to beat down and heat up the inside car elements, the temperature can stay dangerously high.
Checking Tesla's Cooling Feature
Vehicle manufacturers have begun integrating technology aimed at preventing child heat stroke. Tesla introduced its Cabin Overheat Protection feature in their version 8.0 software update for Models S and X. The automaker points out that this feature is not meant to protect children, but it's the first of its kind to automatically lower cabin temperatures when it gets too hot inside a car that is turned off. The feature turns on the vehicle's air-conditioning system when the car is off if the cabin temperature exceeds 105° F. CR testers evaluated this system in our Model S 75D on June 28, 2017, and compared the interior temperature in it with a similarly colored and shaped control sedan that doesn't have the cooling feature. The evaluation was conducted on a partly cloudy day over an 8-hour period. Over that time, the outside air temperature at the test track reached a high of approximately 72° F. Vehicle cabin temperature was measured in the rear seat under an infant-seat carrier canopy installed in the center seat in both vehicles. The sedan without the software reached a high of 169.3° F in the rear seat, while the Tesla reached a high of 116.8° F in the rear seat. The Tesla rear-cabin temperature dropped and fluctuated around an average of 111° F. While these temperatures are potentially lethal for children, the test shows that the technology can cool the cabin. The Tesla owner's manual is clear about the system's limits, and intentions: "The climate control system can reduce cabin temperatures in extremely hot ambient conditions for a period of up to twelve hours after you exit the Model S. When enabled, air conditioning turns on when cabin temperatures exceed 105° F (40° C). Warning: Never leave children or pets in the vehicle unattended. Due to automatic shut-off or extreme outside conditions, the inside of the vehicle can become dangerously hot even with Cabin Overheat Protection enabled." The manual also notes, "Cabin Overheat Protection does not operate, or stops operating, when the energy remaining in the Battery is 20% or less." The system runs off of Tesla's super-large batteries, and using it would clearly impact driving range.
General Motors has created a warning feature designed to prevent children from being left behind.
GM's Rear Seat Reminder
notes whether a rear door was opened within 10 minutes of the vehicle being turned on or anytime after the vehicle has been turned on. GM has implemented the feature in a number of 2017 and 2018 models. The warning holds promise for broader integration into conventional vehicles, which don't have large batteries to run a cooling feature after the car is turned off. When asked if GM would introduce a cooling feature like the one in Tesla models, spokesman Nick Richards says that the automaker "continuously vets technologies, but we haven't found one reliable enough yet to put in our vehicles." Nissan has developed a feature similar to GM's called the Rear Door Alert. Standard on the 2018 Nissan Pathfinder (with plans to roll it out to other models in the future), this system shows a warning in the instrument cluster and honks the horn if it detects that a rear door was opened before a trip and not opened again after the trip was completed. The driver can choose to limit the warning to just the display or to disable it altogether, if it doesn't suit his or her needs.
Consumer Reports believes that automakers should create integrated features that remind parents to check for children in the back seat and get the technology into as many models as they can, as soon as they can. Aftermarket products can fall short because they still depend on parents recognizing the risk and taking some sort of action. Unfortunately, parents rarely expect to forget their children in a hot car, and so fail to act proactively. To encourage car-based protections, Consumers Union endorsed the
HOT CARS
(Helping Overcome Trauma for Children Alone in Rear Seats) Act of 2017. This bill would direct NHTSA to set a rule within two years of passage requiring new passenger cars to come with alert systems that remind drivers to check for rear-seat passengers. CR's experts believe that these alert systems should incorporate visual and audible components. Tesla, General Motors, and Nissan have demonstrated that integrated preventative solutions are possible, even if they have not been perfected. CR will continue to evaluate those and other technologies as they emerge, and will advocate for the widespread adoption of simple, reliable, and effective backseat occupant alerts to be integrated in all new vehicles, says David Friedman, Consumers Union's director of Cars and Product Policy and Analysis. The AAP also endorses the integrated approach. "Having something that is in the vehicle that is a default, that you would have to opt out of, is the right way to go about it," says Elizabeth Murray, D.O. and an AAP spokeswoman. "These are not people making malicious decisions to try to hurt their children. These are terrible accidents that are happening, so if we can make it default to take any human error out of it, then that is the right decision."

A Philly girl at heart, I'm making my way in quiet and quaint New England suburbia. At Consumer Reports, I've found the perfect blend for my love of injury biomechanics, forensics, and kids as an automotive safety engineer for child passenger safety. Mix in adventures with my hubby, baking, crafting, youth ministry, and my big Indian family—life is complete.