Fox News Digital spoke to Amber Rollins of Kids and Car Safety after a 3-year-old was reportedly pronounced dead at a hospital
The child attended Lubavitch Educational Center in Miami Gardens; the boy's father, a rabbi, works there, Fox affiliate WSVN in Miami reported.
The child was found unresponsive at the scene and died at a local hospital. Police were interviewing the father and the incident is being investigated, according to WSVN.
Fox News Digital reached out to Miami Gardens Police for comment. PENNSYLVANIA BABY BOY DIES IN HOT CAR INCIDENT: WHAT PARENTS NEED TO KNOW NOW
"This tragedy hits close to home, and many in our school community have been affected by it," Rabbi Benzion Korf, the center's dean, said in a short statement issued late Monday, according to the Associated Press. "No words can capture the heartbreak and sadness we feel," he added.
How parents and caregivers can protect children
The National Highway Traffic Safety Administration advises locking car doors and trunks year-round so that children can't get inside. "If you see a child alone in a locked car, get them out immediately and call 911," the agency states on its website. "A child in distress due to heat should be removed from the vehicle as quickly as possible and rapidly cooled." Here are more tips for parents on how to "create simple habits" to ensure children remain safe, courtesy of Kids and Car Safety. Make sure your child is never left alone in a car
Place the child's diaper bag or other item on the front passenger seat as a visual cue that the child is with you. Make it a habit of opening the back door every time you park to ensure no one is left behind. To enforce this habit, place an item that you can't start your day without in the back seat (employee badge, laptop, phone, handbag or the like).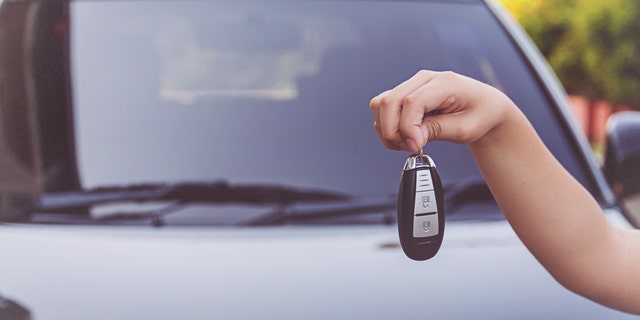 Never leave your car keys within a child's reach. Children can accidentally climb into a hot car and become trapped, according to Kids and Car Safety, (Stock)
Ask your childcare provider to call you right away if your child hasn't arrived as scheduled. Clearly announce and confirm who is getting each child out of the vehicle. Miscommunication can lead to thinking someone else removed the child from the car.
FOLLOW US ON FACEBOOK FOR MORE LIFESTYLE NEWS
Make sure children cannot get into a parked car Keep vehicles locked at all times, especially in a garage or driveway. Ask your neighbors and visitors to do the same.
Never leave car keys within reach of children. Use childproofing knob covers and door alarms to prevent children from exiting your home unnoticed. Teach children to honk the horn or turn on hazard lights if they become stuck inside a car.
CLICK HERE TO GET THE FOX NEWS APP
If a child is missing, immediately check the inside of the car, its floorboards and the trunks of all vehicles in the area carefully, even if they're locked.
For more resources, including information on occupant detection technology, and tips on what to do if a child becomes trapped or what to do if you see a child alone in a car, visit kidsandcars.org.
Nicole Pelletiere is a senior editor, lifestyle, with Fox News Digital
https://www.foxnews.com/lifestyle/florida-child-dies-hot-car-11th-us-year